Christmas Horse
CHRISTMAS HORSE 2 NOW OUT!
---
Christmas Horse 2 is now out!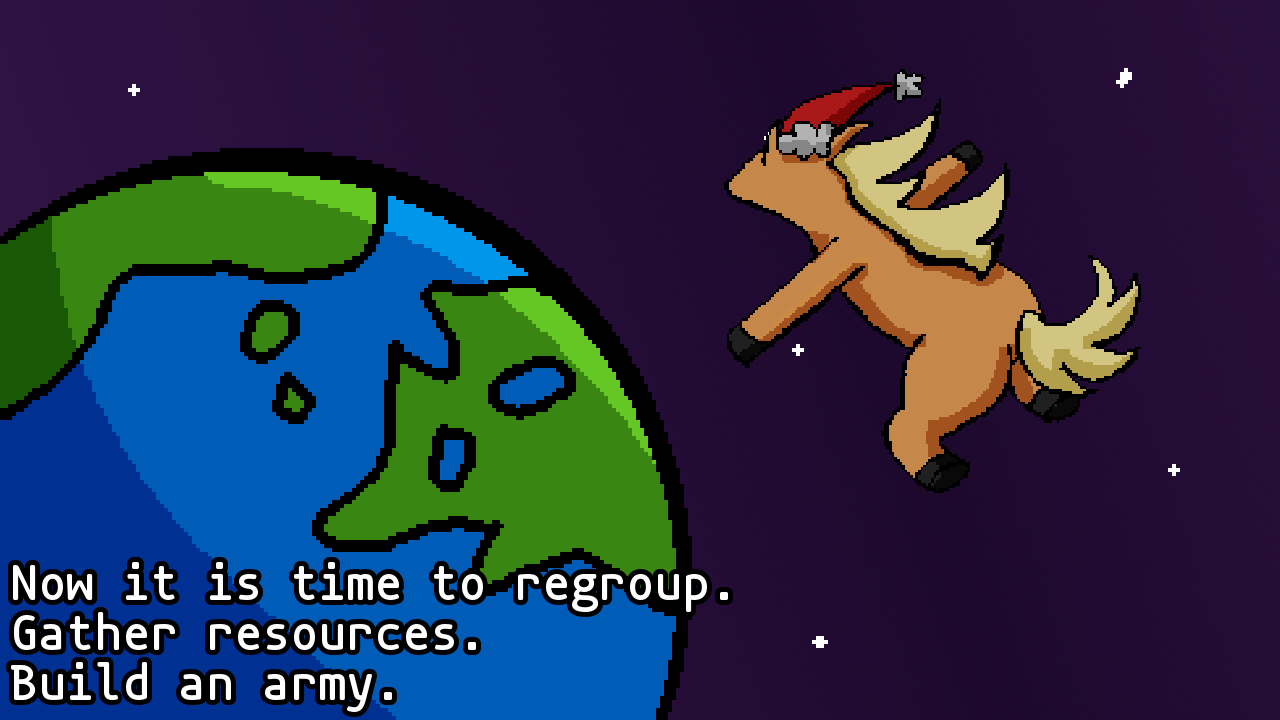 The time has come to continue the story. Last time, Christmas Horse defeated Santa Claus, becoming the new Santa. Now, the elves have retaliated and Santa Horse must gather allies and supplies to prepare for the impending war...

🥕🥕🥕🥕🥕🥕🥕🥕🥕🥕🥕🥕🥕🥕🥕🥕🥕🥕🥕🥕🥕🥕🥕🥕

The making of Christmas Horse 2...
The Christmas Horse games are gifts for my cousin and best friend, Rebekah, who has been a horse girl since we were kids.
While trying to think of what to make Christmas Horse 2 about, I decided to try to remake some of the feeling of an old game that Rebekah and I used to play on her family computer during our childhoods: Spirit: Stallion of the Cimarron - Forever Free.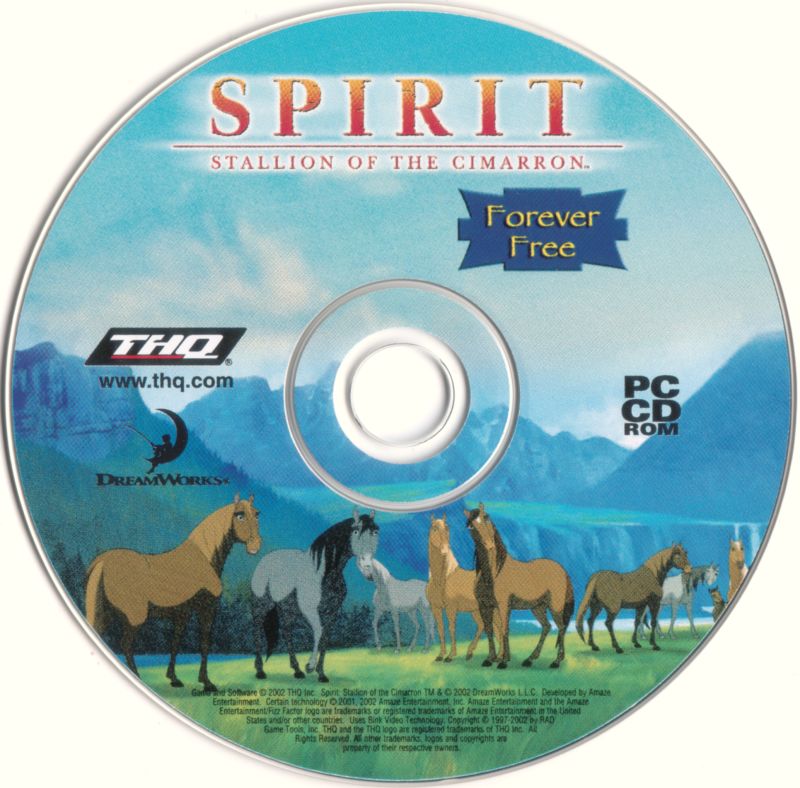 Gameplay
I started by watching a playthrough of the game on YouTube to remember what type of game it was. Overall, it's somewhat simple mechanics, but I also needed to make sure I didn't over-scope.
I ended up imitating the movement style of the game, where you use the mouse to direct your character in 8 directions, with your player character in the center of the screen. In the Spirit game, you have a simple inventory you can click and drag items into in order to complete quests for others, but we're just going with basic Pickin' Sticks-style gameplay for my version.
I implemented really basic dialog in the game as well, so that the other horses give you quests, and a simple HUD shows up on the side of the screen to count how many of the items you've found.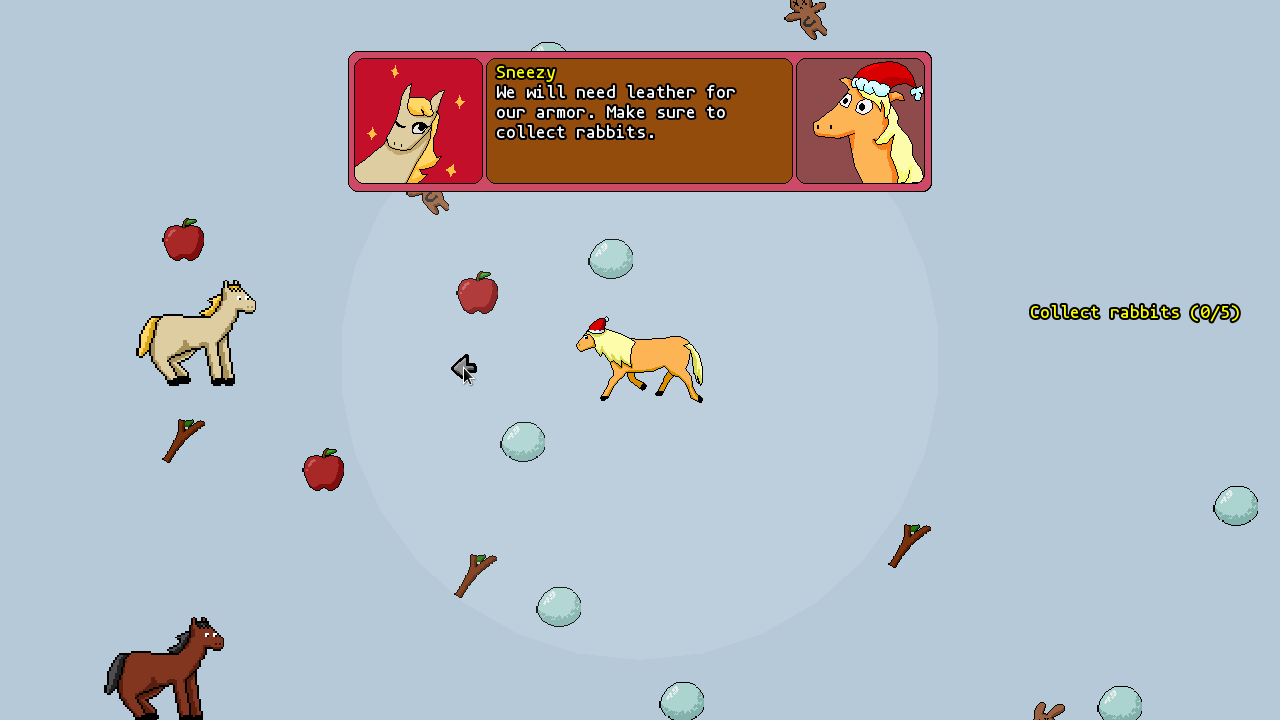 Graphics
I have a download of the game, though it doesn't run very well in Linux with Wine. I did use that to capture video of the Spirit sprite, and then trace on top of the image for my horse sprite.

I had been thinking of drawing a background image for the level and setting up collision regions in the game, trying to imitate the painterly style of the backgrounds in the Spirit game, but I ended up deciding to keep the scope small and just populating the screen with trees and items randomly, with no real landmarks in the level. If this were a bigger project, I would have been more ambitious, but this is a game made in about a week. :)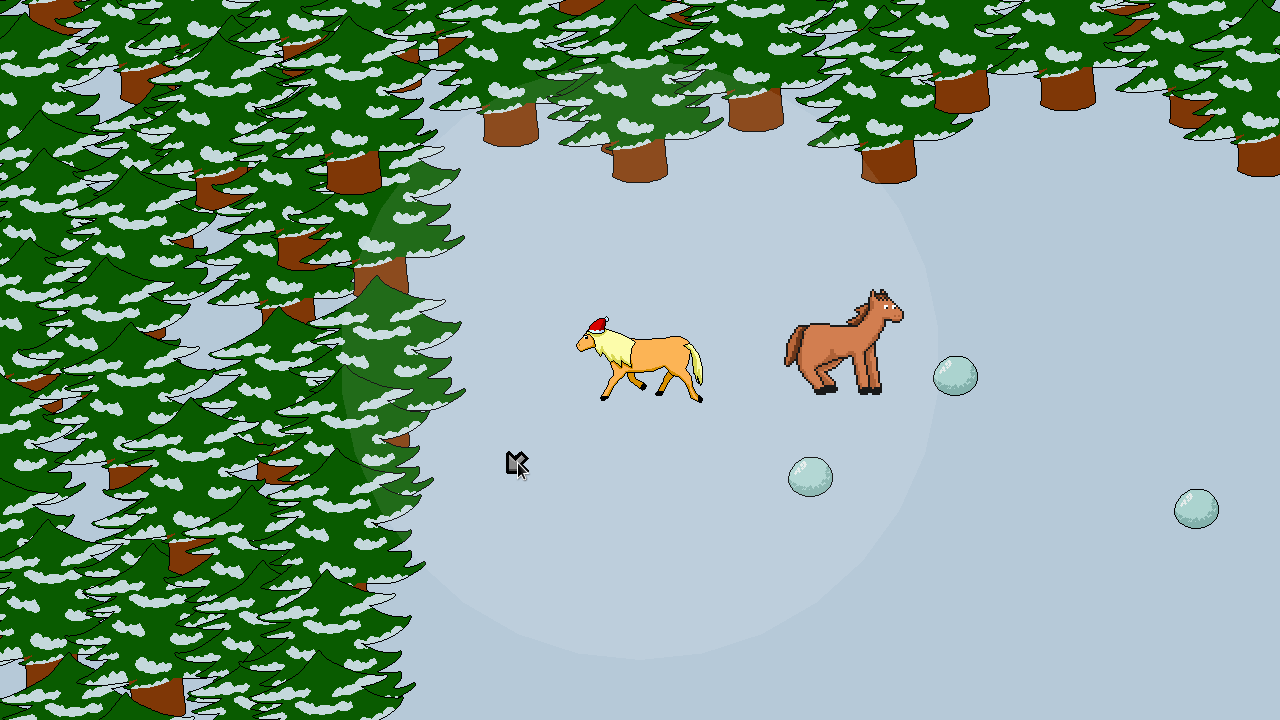 I also implemented an introductory cutscene, where I drew scenes and separated the layers to have really basic animation in the cutscenes. I think they turned out pretty well.
Thus these three layers:

Become this in the game: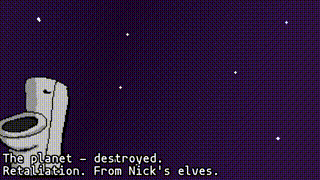 Audio
I spent the morning writing some basic songs for Christmas Horse 2. I had thought of trying to recreate the sound effects of the Spirit game with my piano-keyboard, but I decided to just use the original sound effects because I don't have my piano hooked up right now. I generally only use works that are my own, public domain, or creative commons (or similarly licensed) in my works. All I can say is that the game is old and probably nobody cares if I use these sound effects, so I did. I'll replace them if ever prompted to. :P
Design notes
Just 'cuz.
Example map: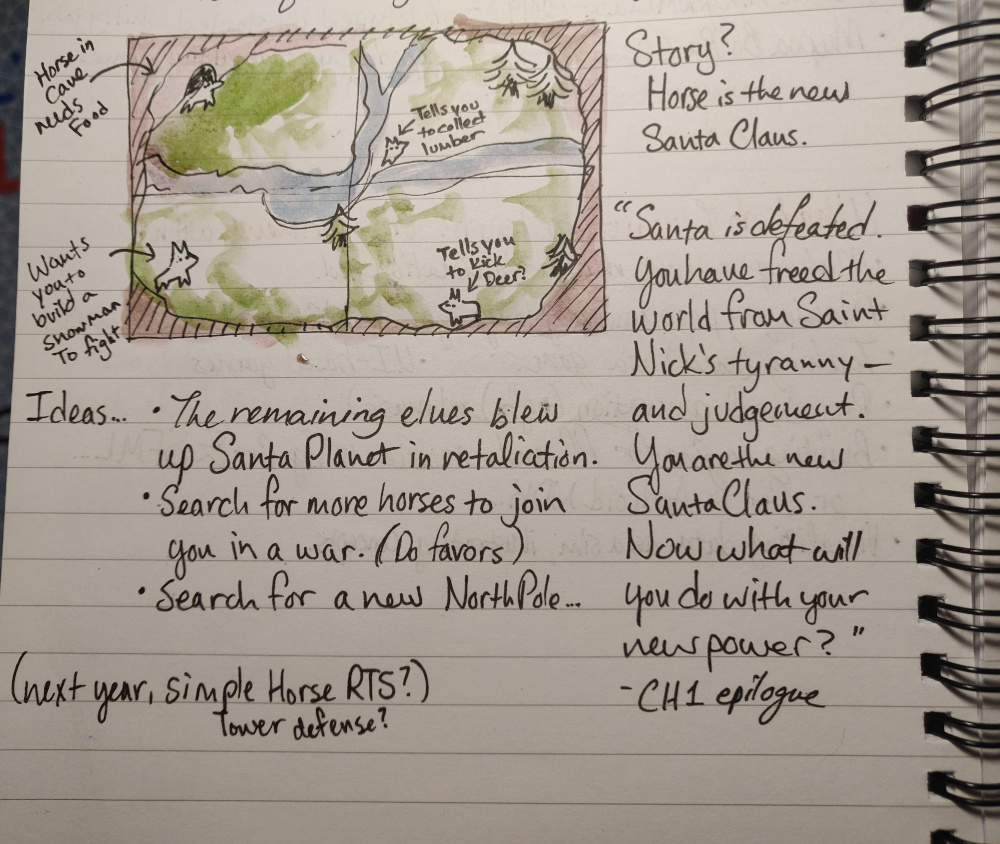 Cutscene storyboard: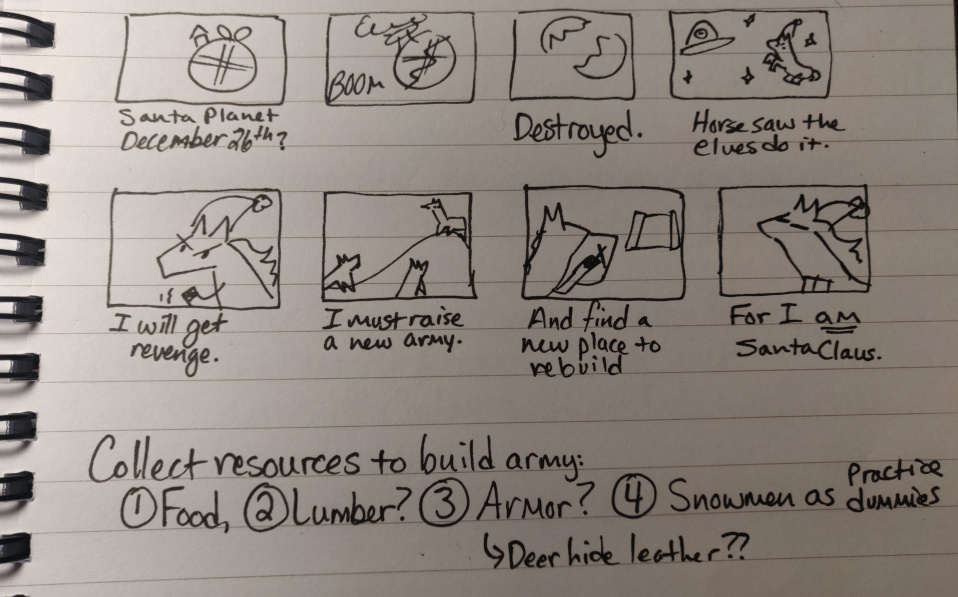 Files
Christmas Horse (1 and 2) - Linux & Source - v2.0
4 MB
Dec 21, 2021
Christmas Horse (1 and 2) - Windows & Source - v2.0
6 MB
Dec 21, 2021
Comments
Log in with itch.io to leave a comment.
This game is AWESOME. Love the development diary, too!