Christmas Horse
CHRISTMAS HORSE 3 OUT NOW!
---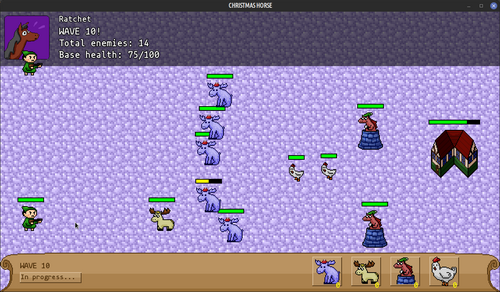 Christmas Horse 3 is officially out! ... Yes, it's February. But I started development in December 2022. That's what counts! AND HERE IT IS!
🥕🥕🥕🥕🥕🥕🥕🥕🥕🥕🥕🥕🥕🥕🥕🥕🥕🥕🥕🥕🥕🥕🥕🥕
Presenting... Christmas Horse 3!
The saga continues as Santa Horse and the Christmas Horses have set up a fortification in the old decrepit North Pole, ready for an onslaught of Elves. Build up your defenses and protect Horse Christmas from 10 waves of enemies!
Development
I usually work on Christmas Horse games during December, but 2022 was especially turbulent and tiring. Also, January 2023 and the first week of February 2023 have also been tough.
SO TAA-DAA HERE'S CHRISTMAS HORSE 3 ON FEB 3RD!!
I wanted to do a Tower Defense style game since I finished working on Christmas Horse 2. This is a pretty rudimentary TD style game, but it's Christmas Horse. Like three people are going to play it.
I'm kind of tired so I can't think of much to say about the development process. It was pretty easy to develop, especially since I eschewed any sort of tile or path based systems. I did stream a couple of times while working on the game, but not the full development. You can find those streams here:
Outside talent?!
On this Christmas Horse game I've received a custom music track from the lovely and talented Tomo Ichigawa 🐔! His music plays during the gameplay itself - something energetic to listen to while you battle Elves!
Cliffhanger ending...
Is this the end of Christmas Horse?? Probably not. Though I'm not sure what genre I'll make Christmas Horse 4.

Files
Christmas Horse (1, 2, and 3) - Windows and Linux
10 MB
Feb 10, 2023