Added "Deskapades" & "Pupreciation" + other updates
---
Deskapades!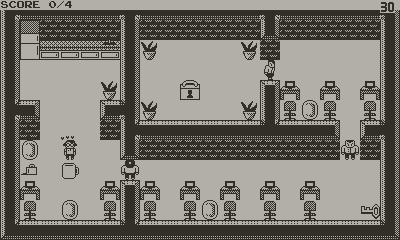 Deskapades is new in v1.6! Try to escape your corporate office building. Distract coworkers with cups of coffee. Collect some spare change on the way!

Optimizing Deskapades

I built the maps for this game in Tiled, and just copy/pasted the map data from the .tmx map to my game data file. However, during testing, I realized that drawing each tile on the map was too much for the PlayDate to handle - I was getting 15 FPS! So instead of rendering each tile, I ended up exporting each level as an image file, so now the background is a single image. The map data is still stored in a table, so collision and all still works, but the actual map is "invisible". :) This upped my frame rate to 30 FPS, except on level 4 and where I got 20 FPS - more enemies on screen, I guess.

Pupreciation!


I added a really rudimentary version of Pupreciation where you can view the dogs and crank LEFT or RIGHT on each one. If you want to send me a picture of your dog(s), you can email me at rachel@moosader.com . Make sure to tell me the dogs' names and how you want me to write your name (e.g., username? full name?)
I'll probably add some effects to this "game" in future versions.

Changelog:
Many tweaks to the game pack so the states don't take up as much memory when they're not active.
Created "tab order" for Options menu to make navigation a little better.
Added Deskapades game!
Added Pupreciation!
New PlayDate menu card again.
Known issues:
Music cuts out in Deskapades.
Slowdown in Deskapades if multiple enemies are going after coffee. (Optimize pathing...)
Future updates:
Make "I Hate Skeletons" not suck.
Whatever I wrote in my last changelog, IDK. It's midnight I've been working on this all day. ^_^;;
Files
RachelsGamePack1-6.pdx.zip
13 MB
Sep 29, 2022
Get Rachel's PlayDate Game Pack