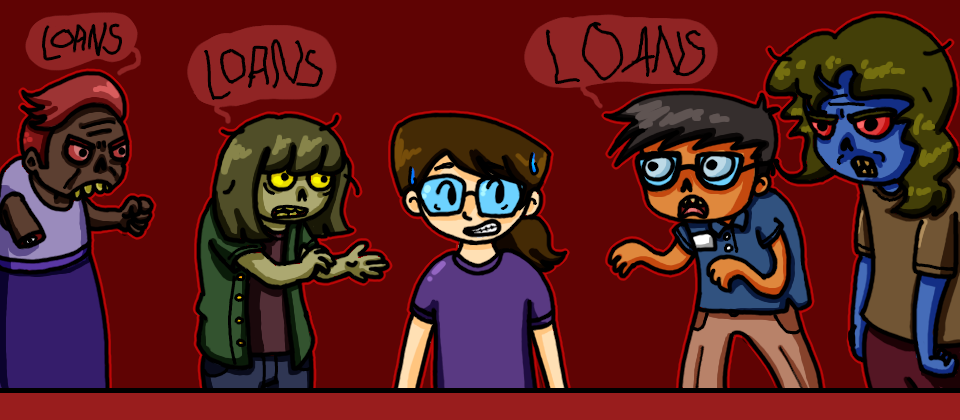 Undead Debt: A Game about Student Loans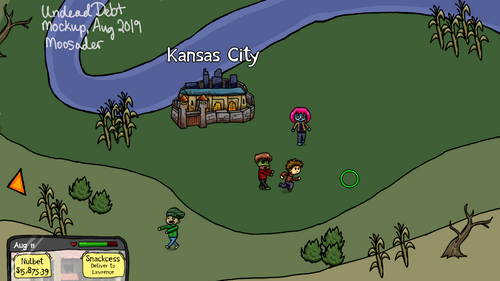 First attempt at a mockup of what I'd like Undead Debt to look like.

The environment is the hardest part, since it will basically just be one big map with a few cities, and you have to fight zombies between towns as you make money through the gig economy to make loan payments.
I want to have a character creator for your player character (where you can make yourself, and type in your starting loan amount :) and the zombies will hopefully also be assembled from parts and randomized.
The map will probably not look quite like this, I'll probably still do a tile-based map, but we'll see. Probably at first it will be a big empty green plane.
I've also decided to move the phone HUD to make it smaller when you don't need it. I'm a fan of the DOS aesthetic of taking up a whole edge of the screen with your HUD, but if I did that the phone would be a REALLY LONG PHONE and it would look weird. I guess you'll just expand it as-needed, or it will pop up when you're by a town with the options to find a job or make a student loan payment.
I should also mention that I love the Portmanteau Generator on PunchLineDesign.net (https://www.punchlinedesign.net/pun_generator), and I'm going to try to figure out names for the gig job apps with that. (e.g., "Snackcess", if you speak it out, should sound like "Snack-Access" (but without the duplicate syllable.) - I know it looks like Snack-Cess, but eh, whatevs. :)